Citroen C3: Cruise control / Temporarily exceeding the programmed speed. Switching off. Malfunction
Temporarily exceeding the programmed speed
If needed (when overtaking, for example) it is possible to exceed the programmed speed by pressing the accelerator pedal.
Cruise control is temporarily deactivated and the programmed speed displayed flashes.
To return to the programmed speed, release the accelerator pedal.
Once the vehicle has returned to the programmed speed, the cruise control resumes operation: the display of the programmed speed becomes fixed again.

When descending a steep hill, the cruise control system cannot prevent the vehicle from exceeding the programmed speed.
You may have to brake to control the speed of your vehicle. In this case, the cruise control is automatically paused.
To activate the system again, with the vehicle speed above 25 mph (40 km/h), press button 4.
Switching off
Turn the thumbwheel 1 to the "OFF" position: the cruise control information disappears from the screen.
Malfunction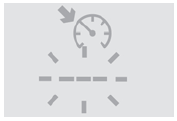 The display of dashes (flashing then fixed) indicates a malfunction with the cruise control system.
Have it checked by a CITROËN dealer or a qualified workshop.