Citroen C3: Child lock / Manual child lock

This system prevents opening of a rear door using its interior handle.
The control, red in colour, is located on the edge of each rear door (marked by a label).
Locking / Unlocking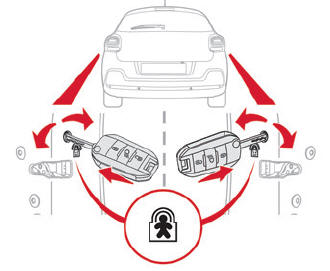 To lock, turn the red control as far as it will go using the integral key:

To the right on the left-hand rear door.
To the left on the right-hand rear door.

To unlock, turn it in the opposite direction.

Do not confuse the child lock control, which is red, with the back-up locking control, which is black.
This control prevents the opening of the rear doors using their interior handles. Activation/Deactivation With the ignition on, press this button to activate/deactivate the child lock...
Other information:
This conceals the interior of the vehicle in combination with the existing shelf. Do not place objects above the load stop. If your vehicle is fitted with a protective grille, you can place objects above the load stop. Do not place hard or heavy objects on the rear shelf...
When the ring is at the "AUTO" position and a low level of ambient light is detected by the rain/sunshine sensor, the number plate lamps, sidelamps and dipped beam headlamps are switched on automatically, without any action on the part of the driver...