Citroen C3: Child lock / Manual child lock

This system prevents opening of a rear door using its interior handle.
The control, red in colour, is located on the edge of each rear door (marked by a label).
Locking / Unlocking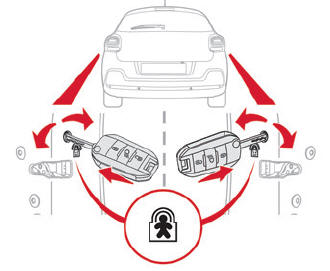 To lock, turn the red control as far as it will go using the integral key:

To the right on the left-hand rear door.
To the left on the right-hand rear door.

To unlock, turn it in the opposite direction.

Do not confuse the child lock control, which is red, with the back-up locking control, which is black.
This control prevents the opening of the rear doors using their interior handles. Activation/Deactivation With the ignition on, press this button to activate/deactivate the child lock...
Other information:
Recommendations This screen is of the capacitive type. Do not use pointed objects on the touch screen. Do not touch the touch screen with wet hands. Use a soft, clean cloth to clean the touch screen. Principles Use the buttons arranged below the touch screen for access to the menus, then press the virtual buttons on the touch screen...
STOP Fixed, associated with another warning lamp, accompanied by the display of a message and an audible signal. A serious fault with the engine, braking system, power steering or a major electrical fault has been detected. Carry out (1) and then (2)...