Citroen C3: Child lock / Manual child lock

This system prevents opening of a rear door using its interior handle.
The control, red in colour, is located on the edge of each rear door (marked by a label).
Locking / Unlocking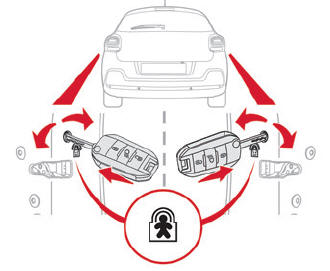 To lock, turn the red control as far as it will go using the integral key:

To the right on the left-hand rear door.
To the left on the right-hand rear door.

To unlock, turn it in the opposite direction.

Do not confuse the child lock control, which is red, with the back-up locking control, which is black.
This control prevents the opening of the rear doors using their interior handles. Activation/Deactivation With the ignition on, press this button to activate/deactivate the child lock...
Other information:
High-gloss paint Do not use abrasive products or solvents, petrol or oil to clean the bodywork. Never use an abrasive sponge to clean stubborn stains. Risk of scratching the paintwork! Do not apply polish in strong sunshine, or to plastic or rubber parts...
USB sockets Depending on equipment, for more information on the USB sockets compatible with the CarPlay®, MirrorLinkTM or Android Auto applications, refer to the "Ease of use and comfort" section. The synchronisation of a smartphone allows users to display applications adapted to the CarPlay®, MirrorLinkTM or Android Auto technology of the smartphone on the vehicle screen...