Citroen C3: Child lock / Manual child lock

This system prevents opening of a rear door using its interior handle.
The control, red in colour, is located on the edge of each rear door (marked by a label).
Locking / Unlocking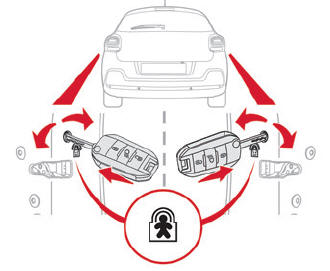 To lock, turn the red control as far as it will go using the integral key:

To the right on the left-hand rear door.
To the left on the right-hand rear door.

To unlock, turn it in the opposite direction.

Do not confuse the child lock control, which is red, with the back-up locking control, which is black.
This control prevents the opening of the rear doors using their interior handles. Activation/Deactivation With the ignition on, press this button to activate/deactivate the child lock...
Other information:
We strongly advise against driving on flooded roads, as this could cause serious damage to the engine or gearbox, as well as to the electrical systems of your vehicle. If you are obliged to drive on a flooded road: check that the depth of water does not exceed 15 cm, taking account of waves that might be generated by other users, deactivate the Stop & Start function, drive as slow..
Green and Blue warning/indicator lamps Blind spot monitoring (only on the LCD text instrument panel) Fixed. The function has been activated. Stop & Start Fixed. When the vehicle stops, the Stop & Start puts the engine into STOP mode. Flashing temporarily. STOP mode is momentarily unavailable or START mode is automatically triggered. Direction indicators Flashing with audible signal. ..