Citroen C3: Child lock / Manual child lock

This system prevents opening of a rear door using its interior handle.
The control, red in colour, is located on the edge of each rear door (marked by a label).
Locking / Unlocking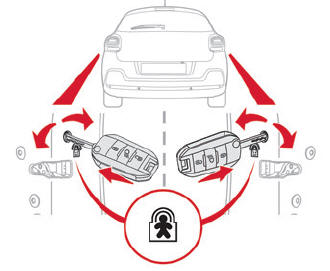 To lock, turn the red control as far as it will go using the integral key:

To the right on the left-hand rear door.
To the left on the right-hand rear door.

To unlock, turn it in the opposite direction.

Do not confuse the child lock control, which is red, with the back-up locking control, which is black.
This control prevents the opening of the rear doors using their interior handles. Activation/Deactivation With the ignition on, press this button to activate/deactivate the child lock...
Other information:
When the ring is in the "AUTO" position, this system automatically switches between dipped and main beam headlamps according to the lighting and traffic conditions, using a camera located at the top of the windscreen. This system is a driving aid...
Multimedia audio system - Bluetooth® telephone The functions and settings described vary according to the vehicle version and configuration. For safety reasons and because they require sustained attention by the driver, the following operations must be carried out with the vehicle stationary and the ignition on: Pairing the smartphone with the system in Bluetooth mode...