Citroen C3: Child lock / Manual child lock

This system prevents opening of a rear door using its interior handle.
The control, red in colour, is located on the edge of each rear door (marked by a label).
Locking / Unlocking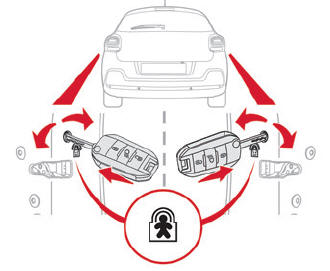 To lock, turn the red control as far as it will go using the integral key:

To the right on the left-hand rear door.
To the left on the right-hand rear door.

To unlock, turn it in the opposite direction.

Do not confuse the child lock control, which is red, with the back-up locking control, which is black.
This control prevents the opening of the rear doors using their interior handles. Activation/Deactivation With the ignition on, press this button to activate/deactivate the child lock...
Other information:
This is signalled by the fixed illumination of this warning lamp, accompanied by an audible signal and, depending on equipment, the display of a message. Reduce speed immediately, avoid excessive steering movements and avoid sudden braking. Stop the vehicle as soon as it is safe to do so...
Select position D for automatic changing of the six gears. The gearbox then operates in auto-adaptive mode, without any intervention on the part of the driver. It continuously selects the most suitable gear according to the driving style, the road profile and the load in the vehicle...