Citroen C3: Child lock / Manual child lock

This system prevents opening of a rear door using its interior handle.
The control, red in colour, is located on the edge of each rear door (marked by a label).
Locking / Unlocking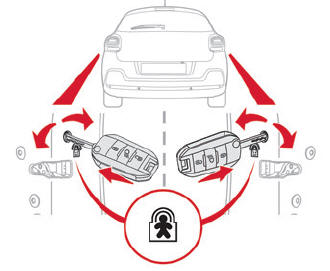 To lock, turn the red control as far as it will go using the integral key:

To the right on the left-hand rear door.
To the left on the right-hand rear door.

To unlock, turn it in the opposite direction.

Do not confuse the child lock control, which is red, with the back-up locking control, which is black.
This control prevents the opening of the rear doors using their interior handles. Activation/Deactivation With the ignition on, press this button to activate/deactivate the child lock...
Other information:
This function warns the driver that their vehicle is at risk of a collision with the vehicle in front or with a pedestrian present in their traffic lane. Modifying the alert trigger threshold This trigger threshold determines the sensitivity with which the function warns of the risk of collision...
In an emergency, press button 1 for more than 2 seconds. The lighting of the indicator lamp and a voice message confirm that the call has been made to the emergency services*. 'Localised Emergency Call' immediately locates your vehicle and puts you in contact with the appropriate emergency services**...