Citroen C3: Child lock / Electric child lock
This control prevents the opening of the rear doors using their interior handles.
Activation/Deactivation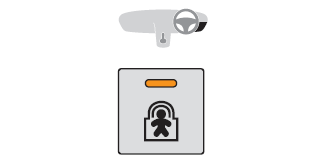 With the ignition on, press this button to activate/deactivate the child lock.
A message is displayed, confirming activation/ deactivation of the child lock.
When the indicator lamp is on, the child lock is activated.

This system is independent and in no circumstances does it take the place of the central locking control.
Check the status of the child lock each time you switch on the ignition.
Always keep the electronic key with you when leaving the vehicle, even for a short time. In the event of a serious impact, the electric child lock is switched off automatically to permit the exit of the rear passengers.

Any other status of the indicator lamp indicates a malfunction of the electric child lock.
Have it checked by a CITROËN dealer or a qualified workshop.
This system prevents opening of a rear door using its interior handle. The control, red in colour, is located on the edge of each rear door (marked by a label)...
Other information:
For optimum service life of the battery, it is essential to maintain an adequate state of charge. In some circumstances, it may be necessary to charge the battery: using the vehicle mainly for short journeys; if the vehicle is to be taken off the road for several weeks. Contact a CITROËN dealer or a qualified workshop. To charge the vehicle's battery yourself, use only a charger comp..
(Depending on engine.) This system helps reduce fuel consumption by recommending the most appropriate gear. Operation Depending on the driving situation and the vehicle's equipment, the system may advise to skip one or more gears. Gear shift recommendations should not be considered compulsory. In fact, the road layout, the traffic density and safety remain the deciding factors when choosing ..