Citroen C3: Child lock / Electric child lock
This control prevents the opening of the rear doors using their interior handles.
Activation/Deactivation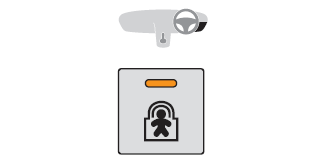 With the ignition on, press this button to activate/deactivate the child lock.
A message is displayed, confirming activation/ deactivation of the child lock.
When the indicator lamp is on, the child lock is activated.

This system is independent and in no circumstances does it take the place of the central locking control.
Check the status of the child lock each time you switch on the ignition.
Always keep the electronic key with you when leaving the vehicle, even for a short time. In the event of a serious impact, the electric child lock is switched off automatically to permit the exit of the rear passengers.

Any other status of the indicator lamp indicates a malfunction of the electric child lock.
Have it checked by a CITROËN dealer or a qualified workshop.
This system prevents opening of a rear door using its interior handle. The control, red in colour, is located on the edge of each rear door (marked by a label)...
Other information:
When a position is selected in the grate with the gear selector, the corresponding indicator lamp lights up on the instrument panel. P. Park R. Reverse N. Neutral D. Drive (automatic operation) S. Sport programme 1...6. Gear engaged during manual operation -. Instruction not processed in manual operation Foot on the brake Depress the brake pedal when this warning lamp is displayed on the..
This function warns the driver that their vehicle is at risk of a collision with the vehicle in front or with a pedestrian present in their traffic lane. Modifying the alert trigger threshold This trigger threshold determines the sensitivity with which the function warns of the risk of collision. The threshold is set via theDriving / Vehicle touch screen menu. Select one of the three pre-d..