Citroen C3: Child lock / Electric child lock
This control prevents the opening of the rear doors using their interior handles.
Activation/Deactivation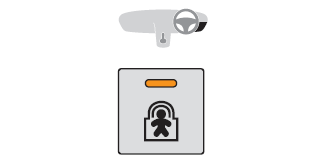 With the ignition on, press this button to activate/deactivate the child lock.
A message is displayed, confirming activation/ deactivation of the child lock.
When the indicator lamp is on, the child lock is activated.

This system is independent and in no circumstances does it take the place of the central locking control.
Check the status of the child lock each time you switch on the ignition.
Always keep the electronic key with you when leaving the vehicle, even for a short time. In the event of a serious impact, the electric child lock is switched off automatically to permit the exit of the rear passengers.

Any other status of the indicator lamp indicates a malfunction of the electric child lock.
Have it checked by a CITROËN dealer or a qualified workshop.
This system prevents opening of a rear door using its interior handle. The control, red in colour, is located on the edge of each rear door (marked by a label)...
Other information:
This system allows the unlocking, locking and starting of the vehicle, while carrying the electronic key on your person in the recognition zone A. Unlocking the vehicle With the electronic key on your person in recognition zone A, pass your hand behind the door handle of one of the front doors, or press the tailgate opening control. The flashing of the direction indicators for a f..
Unclip the tool storage box (standard spare wheel). Slacken the central nut. Remove the fastening device (nut and bolt). Lift the spare wheel towards you from the rear. Take the wheel out of the boot. If there is no wheel in the well, the fastening device (nut and bolt) cannot be refitted...