Citroen C3: Driving / Lane Departure Warning System
Refer to the General recommendations on the use of driving and manoeuvring aids.
This system, using a camera which recognises solid or broken lines, detects the involuntary crossing of longitudinal traffic lane markings on the ground.
If the driver's attention drops and the speed is higher than 37 mph (60 km/h), the system triggers a warning if there is an unexpected change of direction.
This system is particularly useful on motorways and main roads.

Activation/Deactivation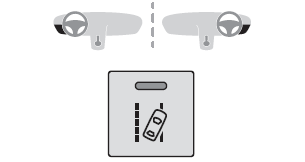 Activation/deactivation via this button or the touch screen, depending on version.
The indicator lamp comes on when the function is activated.
The state of the system is memorised when the ignition is switched off.
Detection

If an unexpected change of direction is detected, this warning lamp flashes in the instrument panel accompanied by an audible signal.
No warning is transmitted while the direction indicator is activated and for approximately 20 seconds after the direction indicator is switched off.
Malfunction

In the event of a malfunction, this warning lamp flashes on the instrument panel for about 10 seconds then goes out.
Contact a CITROËN dealer or a qualified workshop.