Citroen C3: Changing a fuse / Changing a fuse
Before changing a fuse:
Identify the cause of the fault and fix it.
Stop all power consumption.
Immobilise the vehicle and switch the ignition off.
Identify the defective fuse using the current allocation tables and diagrams.
To replace a fuse, it is essential to:
Use the special tweezers to extract the fuse from its housing and check the condition of its filament.
Always replace the failed fuse with a fuse of the same rating (same colour); use of a different rating may cause malfunctions - risk of fire!
If the fault recurs after replacing a fuse, have the electrical system checked by a CITROËN dealer or a qualified workshop.

The fuse allocation tables and the corresponding diagrams are available from a CITROËN dealer or from a qualified workshop.

The replacement of a fuse not shown in the allocation tables may cause a serious malfunction of your vehicle. Contact a CITROËN dealer or a qualified workshop.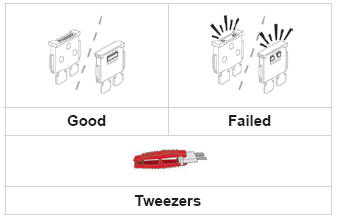 Installing electrical accessories
Your vehicle's electrical system is designed to operate with standard or optional equipment.
Before installing other electrical equipment or accessories on your vehicle, contact a CITROËN dealer or a qualified workshop.

CITROËN will not accept responsibility for the cost incurred in repairing your vehicle or for rectifying malfunctions resulting from the installation of accessories not supplied and not recommended by CITROËN and not installed in accordance with its instructions, in particular when the combined consumption of all of the additional equipment connected exceeds 10 milliamperes.