Citroen C3: Mirrors / Door mirrors
Each fitted with an adjustable mirror glass permitting the lateral rearward vision necessary for overtaking or parking.
They can also be folded in for parking in narrow spaces.
Demisting/Defrosting

If the vehicle is so equipped, demisting/ defrosting of the heated door mirrors is performed when the heated rear screen is switched on.
For more information on Rear screen demisting/defrosting, refer to the corresponding section.
Manual adjustment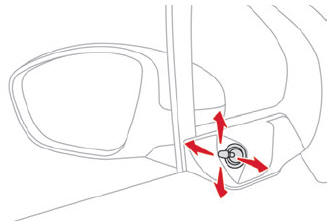 Move the lever in any of the 4 directions to correctly position the mirror glass.

As a safety measure, the mirrors should be adjusted to reduce the "blind spots". The objects that you see in the mirrors are in fact closer than they appear. Take this into account in order to correctly judge the distance of vehicles approaching from behind.
Electric adjustment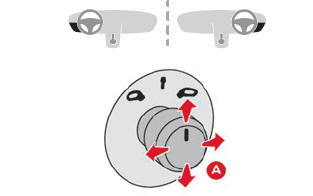 Turn control A to the right or to the left to select the corresponding mirror.
Move the control in any of the four directions to adjust.
Return the control to the central position.
Manual folding
The mirrors can be folded manually (parking obstruction, narrow garage, etc.).
Turn the mirror towards the vehicle.
Electric folding
If the vehicle is so equipped, the mirrors can be folded electrically from the inside, with the vehicle parked and the ignition on: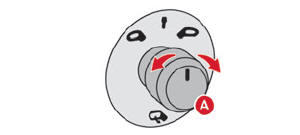 Equipped with an anti-dazzle system, which darkens the mirror glass and reduces the nuisance to the driver caused by the sun, headlights of other vehicles, etc...
Other information:
For vehicles on which it is fitted, the control is located inside the glove box. With the ignition off: To deactivate the airbag, turn the key in the switch to the "OFF" position. To reactivate it, turn the key to the "ON" position. When the ignition is switched on: This warning lamp comes on and remains lit to signal the deactivation...
Select position D for automatic changing of the six gears. The gearbox then operates in auto-adaptive mode, without any intervention on the part of the driver. It continuously selects the most suitable gear according to the driving style, the road profile and the load in the vehicle...