Citroen C3: Changing a bulb / Rear lamps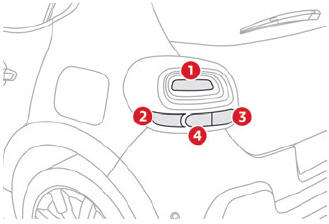 Sidelamps (R10W)
Brake lamps (P21W)
Direction indicators (PY21W)
Reversing lamp (P21W) or Foglamp (PR21W)
Changing bulbs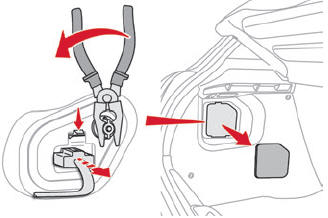 These bulbs are changed from inside the boot.
Open the boot.
Remove the access flap on the corresponding side trim.
Disconnect the lamp unit connector.
Unscrew the nut and remove it. Be careful not to drop it inside the wing.
Unclip the lamp unit and carefully extract it pulling straight towards the outside.
A standard pair of pliers or the wheelbrace (depending on equipment) may be necessary to remove the nut.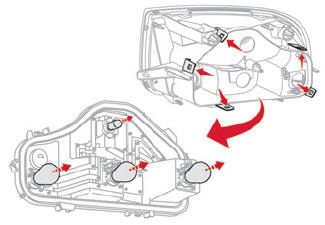 Remove the retaining tabs from the bulb holder and remove it.
Turn the bulb a quarter turn and replace it.

Make sure to engage the lamp unit in its guides while keeping it in line with the vehicle.
Tighten sufficiently to ensure sealing, but without damaging the lamp unit.
Third brake lamp (4 T10 W5W bulbs)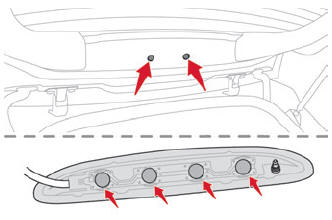 Open the boot, unclip the plastic covers.
Push the two lugs with a screwdriver.
Remove the lamp unit from outside of the tailgate.
Disconnect the connector.
Turn the bulb holder corresponding to the faulty bulb a quarter turn and pull it out.
Remove the bulb and replace it.
To refit, perform these operations in reverse order, checking that the screenwash fluid nozzle is on the left-hand side.
Courtesy lamp (W5W) Using a thin, flap tip screwdriver, unclip the entire console surrounding the courtesy lamp. Remove the defective bulb and replace it...
Other information:
Refer to the General recommendations on the use of driving and manoeuvring aids. This system includes sensors, placed on the sides of the bumpers, and warns the driver of the potentially dangerous presence of another vehicle (car, truck, motorcycle) in the blind spot areas of their vehicle (areas hidden from the driver's field of vision)...
Never leave the engine running in a closed space without sufficient ventilation. Internal combustion engines emit toxic exhaust gases such as carbon monoxide. Danger of poisoning and death! In severe wintry conditions (temperature below -23°C), let the engine run for 4 minutes before moving off, to ensure the correct operation and durability of the mechanical components of your vehicl..