Citroen C3: Changing a bulb / Rear lamps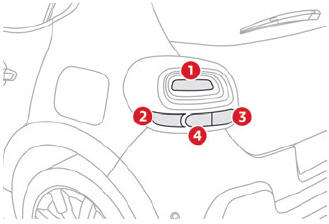 Sidelamps (R10W)
Brake lamps (P21W)
Direction indicators (PY21W)
Reversing lamp (P21W) or Foglamp (PR21W)
Changing bulbs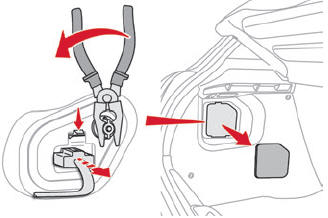 These bulbs are changed from inside the boot.
Open the boot.
Remove the access flap on the corresponding side trim.
Disconnect the lamp unit connector.
Unscrew the nut and remove it. Be careful not to drop it inside the wing.
Unclip the lamp unit and carefully extract it pulling straight towards the outside.
A standard pair of pliers or the wheelbrace (depending on equipment) may be necessary to remove the nut.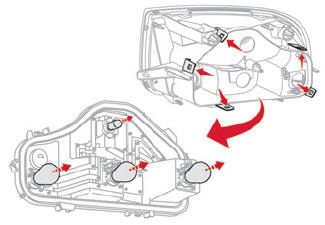 Remove the retaining tabs from the bulb holder and remove it.
Turn the bulb a quarter turn and replace it.

Make sure to engage the lamp unit in its guides while keeping it in line with the vehicle.
Tighten sufficiently to ensure sealing, but without damaging the lamp unit.
Third brake lamp (4 T10 W5W bulbs)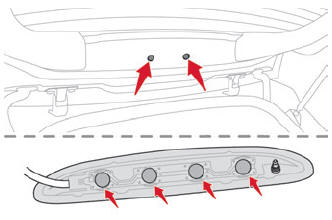 Open the boot, unclip the plastic covers.
Push the two lugs with a screwdriver.
Remove the lamp unit from outside of the tailgate.
Disconnect the connector.
Turn the bulb holder corresponding to the faulty bulb a quarter turn and pull it out.
Remove the bulb and replace it.
To refit, perform these operations in reverse order, checking that the screenwash fluid nozzle is on the left-hand side.
Courtesy lamp (W5W) Using a thin, flap tip screwdriver, unclip the entire console surrounding the courtesy lamp. Remove the defective bulb and replace it...
Other information:
For vehicles on which it is fitted, the control is located inside the glove box. With the ignition off: To deactivate the airbag, turn the key in the switch to the "OFF" position. To reactivate it, turn the key to the "ON" position. When the ignition is switched on: This warning lamp comes on and remains lit to signal the deactivation...
Check all of the following levels regularly in accordance with the manufacturer's service schedule. Top them up if required, unless otherwise indicated. If a level drops significantly, have the corresponding system checked by a CITROËN dealer or a qualified workshop...