Citroen C3: Lighting and visibility / Wiper control stalk

In wintry conditions, remove snow, ice or frost present on the windscreen, around the wiper arms and blades and on the windscreen seal, before operating the wipers.

Do not operate the wipers on a dry windscreen. Under extremely hot or cold conditions, ensure that the wiper blades are not stuck to the windscreen before operating the wipers.
Without AUTO wiping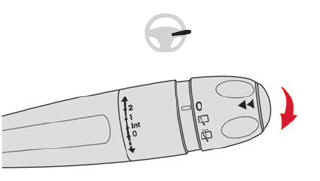 With AUTO wiping
To avoid causing a nuisance to other road users, the height of the headlamp beams should be adjusted according to the load in the vehicle. 0. (Initial adjustment) Driver only or driver + front passenger -...
To select the wiping speed: raise or lower the stalk to the desired position. Fast wiping (heavy rain) Normal wiping (moderate rain) Intermittent wiping (proportional to the vehicle's speed) Off Single wipe (press down and release)...
Other information:
GPS navigation - Applications - Multimedia audio system - Bluetooth® telephone The functions and settings described vary according to the vehicle version and configuration. For safety reasons and because they require sustained attention by the driver, the following operations must be carried out with the vehicle stationary and the ignition on: Pairing the smartphone with the system ..
Scan the QR Code on page 3 to view explanatory videos. Made up of a compressor and a sealant cartridge, it allows you to carry out a temporary repair of the tyre so that you can drive to the nearest garage. It is designed to repair most punctures located on the tyre tread. The vehicle's electric system allows the connection of the compressor to the 2 V power supply for long enough to re..