Citroen C3: Practical information / Towing device. Load reduction mode
Towing device
Load distribution
Distribute the load in the trailer so that the heaviest items are as close as possible to the axle, and the nose weight approaches the maximum permitted without exceeding it.
Air density decreases with altitude, thus reducing engine performance. The maximum load which can be towed must be reduced by 10% per 1,000 metres of altitude.

Use towing devices and their genuine wiring harnesses approved by CITROËN. It is recommended that the installation be performed by a CITROËN dealer or a qualified workshop.
If not fitted by a CITROËN dealer, it must still be fitted in accordance with the manufacturer's instructions.
Certain driving or manoeuvring aid functions are automatically deactivated if an approved towing system is used.

Observe the maximum authorised towable weight, indicated on the vehicle's registration certificate, the manufacturer's label as well as in the Technical data section of this guide.
Complying with the maximum authorised nose weight (towball) also includes the use of accessories (bicycle carriers, tow boxes, etc.).

Observe the legislation in force in the country where you are driving.
Blanking plug
If your vehicle is equipped with a blanking plug, it must be removed before towing.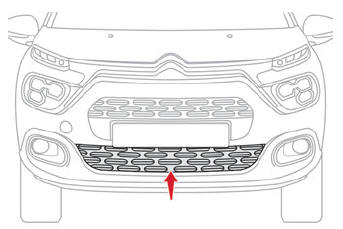 It is located behind the lower air intake grille. Contact your CITROËN dealer or a qualified workshop to have it removed.
Load reduction mode
System which manages the use of certain functions according to the level of charge remaining in the battery.
When the vehicle is being driven, the load reduction function temporarily deactivates certain functions, such as air conditioning, heated rear screen, etc.
The deactivated functions are reactivated automatically as soon as conditions permit.
In wintry conditions, snow chains improve traction as well as the behaviour of the vehicle when braking. The snow chains must be fitted only to the front wheels...
This system manages the duration of use of certain functions, in order to conserve a sufficient level of charge in the battery with the ignition off...
Other information:
This system gives access to the following elements: Audio system and telephone controls and display of related information. Vehicle function and equipment setting menus. For safety reasons, always stop the vehicle before performing operations that require sustained attention...
Before switching off the engine, it is possible to engage position P or N to place the gearbox in neutral. In both cases, apply the parking brake to immobilise the vehicle, unless it is programmed to automatic mode. If the selector is not in position P, when the driver's door is opened or approximately 45 seconds after the ignition is switched off, an audible signal sounds and a message ..