Citroen C3: Practical information / Snow chains
In wintry conditions, snow chains improve traction as well as the behaviour of the vehicle when braking.

The snow chains must be fitted only to the front wheels. They must never be fitted to "space-saver" type spare wheels.

Take account of the legislation specific to each country on the use of snow chains and the maximum authorised speed.
Use only the chains designed to be fitted to the type of wheel fitted to the vehicle: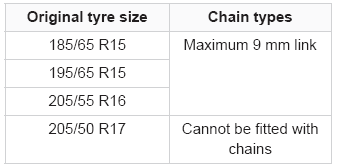 For more information on snow chains, contact a CITROËN dealer or a qualified workshop.
Installation tips
To fit the chains during a journey, stop the vehicle on a flat surface on the side of the road.
Apply the parking brake and position any wheel chocks under the wheels to prevent movement of the vehicle.
Fit the chains following the instructions provided by the manufacturer.
Move off gently and drive for a few moments, without exceeding 31 mph (50 km/h).
Stop the vehicle and check that the snow chains are correctly tightened.

It is strongly recommended that before you leave, you practise fitting the snow chains on a level and dry surface.

Avoid driving with snow chains on roads that have been cleared of snow to avoid damaging the vehicle's tyres and the road surface. If the vehicle is fitted with alloy wheels, check that no part of the chain or its fixings is in contact with the wheel rim.
Petrol fuels conforming to the EN228 standard containing up to 5% and 10% ethanol respectively. Diesel fuels conforming to the EN590, EN16734 and EN16709 standards and containing up to 7%, 10%, 20% and 30% fatty acid methyl ester respectively...
Towing device Load distribution Distribute the load in the trailer so that the heaviest items are as close as possible to the axle, and the nose weight approaches the maximum permitted without exceeding it...
Other information:
The remote control can be used for the following remote functions, depending on version: Unlocking / Locking / Deadlocking the vehicle. Opening the fuel tank cap. Remote operation of lighting. Activating / Deactivating the alarm. Locating the vehicle...
Before switching off the engine, it is possible to engage position P or N to place the gearbox in neutral. In both cases, apply the parking brake to immobilise the vehicle, unless it is programmed to automatic mode. If the selector is not in position P, when the driver's door is opened or approximately 45 seconds after the ignition is switched off, an audible signal sounds and a message ..