Citroen C3: Towing / Towing another vehicle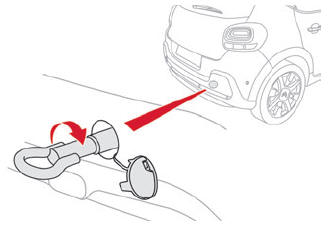 On the rear bumper, unclip the cover by pressing at the bottom.
Screw the towing eye in fully, until it reaches a stop.
Install the tow bar.
Switch on the hazard warning lamps on both vehicles.
Set off gently, drive slowly and for a short distance.
On the front bumper, unclip the cover by pressing at its left-hand side. Screw the towing eye in fully. Install the towbar. With a manual gearbox, move the gear lever into neutral...
Other information:
Located on the sides of your vehicle, they protect the bodywork by resisting everyday bumps and scrapes caused by parking posts, opening doors, scratches, etc. Maintenance of AIRBUMP® The AIRBUMP® do not require any specific maintenance. Clean them using water or one of the products available from a CITROËN dealer. To protect the AIRBUMP® against premature ageing, do not use polish...
Refer to the General recommendations on the use of driving and manoeuvring aids. This system: warns the driver that their vehicle is at risk of collision with the vehicle in front or a pedestrian. reduces the vehicle's speed to avoid a collision or limit its severity. This system is comprised of three functions: Collision Risk Alert. Intelligent emergency braking assistance. Active S..
Categories
Copyright © 2021 www.citroenc3.org