Citroen C3: Cruise control / Steering mounted control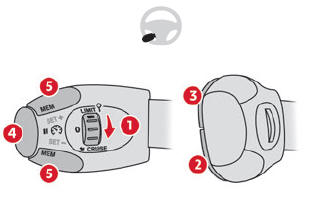 ON (CRUISE position) / OFF
Activation of cruise control at the current speed / decrease speed setting
Activation of cruise control at the current speed / increase speed setting
Pausing / resumption of cruise control with the speed setting previously stored
Use the speed suggested by the Speed Limit Recognition and Recommendation (MEM display)
For more information on the Speed Limit Recognition and Recommendation, refer to the corresponding section.
Refer to the General recommendations on the use of driving and manoeuvring aids and to Cruise control - particular recommendations. This system automatically keeps the vehicle's speed at the cruise value programmed by the driver (speed setting), without using the accelerator pedal...
Cruise control pause/resume Cruise control mode selection Speed setting value Speed suggested by the Speed Limit recognition and recommendation system ..
Other information:
Reinitialisation The system must be reinitialised after any adjustment to the pressure of one or more tyres, and after changing one or more wheels. Before reinitialising the system, make sure that the pressures of the four tyres are correct for the conditions of use of the vehicle and conform to the values written on the tyre pressure label. Check the pressures of the four tyres before pe..
With the engine running, use the adjustment knob to switch on and select the level of heating required: 0 : Off. 1 : Low. 2 : Medium. 3 : High. The front seats can be heated individually. Do not use the function when the seat is not occupied. Reduce the heating intensity as soon as possible. When the seat and passenger compartment have reached a satisfactory temperature, switch the functi..
Categories
Copyright © 2022 www.citroenc3.org