Citroen C3: Cruise control / Steering mounted control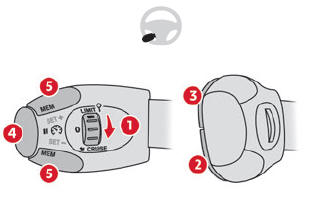 ON (CRUISE position) / OFF
Activation of cruise control at the current speed / decrease speed setting
Activation of cruise control at the current speed / increase speed setting
Pausing / resumption of cruise control with the speed setting previously stored
Use the speed suggested by the Speed Limit Recognition and Recommendation (MEM display)
For more information on the Speed Limit Recognition and Recommendation, refer to the corresponding section.
Refer to the General recommendations on the use of driving and manoeuvring aids and to Cruise control - particular recommendations. This system automatically keeps the vehicle's speed at the cruise value programmed by the driver (speed setting), without using the accelerator pedal...
Cruise control pause/resume Cruise control mode selection Speed setting value Speed suggested by the Speed Limit recognition and recommendation system ..
Other information:
Connected navigation Enter navigation settings and choose a destination. Use real-time services, depending on equipment. Applications Run certain applications on a smartphone connected via CarPlay®, MirrorLinkTM (available in some countries) or Android Auto. Radio Media Select an audio source or radio station, or display photographs. Telephone Connect a telephone via Bluetooth®, ..
If there is no telephone connected by Bluetooth, a voice message announces: "Please first connect a telephone", and the voice session will be closed. Voice commands Call contact <...>* Dial <…>* Display contacts* Display calls* Call (message box | voicemail)* Help messages To make a phone call, say "call" followed by the contact name, for example: "Call David Miller". You ca..
Categories
Copyright © 2023 www.citroenc3.org