Citroen C3: Cruise control / Steering mounted control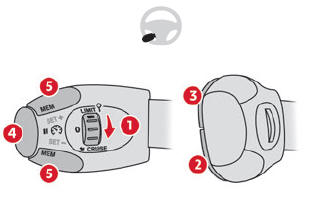 ON (CRUISE position) / OFF
Activation of cruise control at the current speed / decrease speed setting
Activation of cruise control at the current speed / increase speed setting
Pausing / resumption of cruise control with the speed setting previously stored
Use the speed suggested by the Speed Limit Recognition and Recommendation (MEM display)
For more information on the Speed Limit Recognition and Recommendation, refer to the corresponding section.
Refer to the General recommendations on the use of driving and manoeuvring aids and to Cruise control - particular recommendations. This system automatically keeps the vehicle's speed at the cruise value programmed by the driver (speed setting), without using the accelerator pedal...
Cruise control pause/resume Cruise control mode selection Speed setting value Speed suggested by the Speed Limit recognition and recommendation system ..
Other information:
Depending on version Depending on the equipment level of the vehicle Network connection provided by the vehicle OR Network connection provided by the user Connected navigation connection As a safety measure and because it requires sustained attention by the driver, using a smartphone when driving is prohibited. All operations must be done with the vehicle stationary. For access to connec..
(Depending on engine.) This system helps reduce fuel consumption by recommending the most appropriate gear. Operation Depending on the driving situation and the vehicle's equipment, the system may advise to skip one or more gears. Gear shift recommendations should not be considered compulsory. In fact, the road layout, the traffic density and safety remain the deciding factors when choosing ..
Categories
Copyright © 2023 www.citroenc3.org