Citroen C3: Cruise control / Information displayed on the instrument panel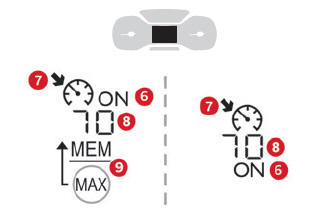 Cruise control pause/resume
Cruise control mode selection
Speed setting value
Speed suggested by the Speed Limit recognition and recommendation system
Switching on/pausing Turn thumbwheel 1 to the "CRUISE" position to select cruise control mode; the function is paused. Press button 2 or 3 to activate cruise control and save a speed setting when the vehicle has reached the desired speed; the vehicle's current speed is saved as the speed setting...
Other information:
ON (CRUISE position) / OFF Activation of cruise control at the current speed / decrease speed setting Activation of cruise control at the current speed / increase speed setting Pausing / resumption of cruise control with the speed setting previously stored Use the speed suggested by the Speed Limit Recognition and Recommendation (MEM display) For more information on the Speed Lim..
(Depending on country of sale.) This mechanical device prevents filling the tank of a Diesel vehicle with petrol. Located in the filler neck, the misfuel prevention device is visible when the filler cap is removed. Operation When a petrol filler nozzle is inserted into the fuel filler neck of a Diesel vehicle, it comes into contact with the flap. The system remains closed and prevents fillin..
Categories
Copyright © 2022 www.citroenc3.org