Citroen C3: Instruments / Lighting dimmer
Allows manual adjustment of the brightness of the instrument panel and touch screen according to the outside lighting.
Only works when the vehicle lamps are on (except daytime running lamps) and in night mode.
Two buttons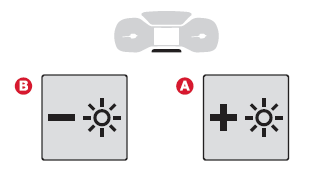 With the lamps on, press button A to increase the brightness of the lighting, or button B to decrease it.
Release the button when the desired brightness is reached.
Touch screen
In the Settings menu, select "Brightness".
Adjust the brightness by pressing the arrows or moving the slider.

The brightness can be set differently for day mode (lighting control stalk in position "0") and night mode (lighting control stalk in any other position).