Citroen C3: Practical information / Misfuel prevention (Diesel)
(Depending on country of sale.)
This mechanical device prevents filling the tank of a Diesel vehicle with petrol.
Located in the filler neck, the misfuel prevention device is visible when the filler cap is removed.
Operation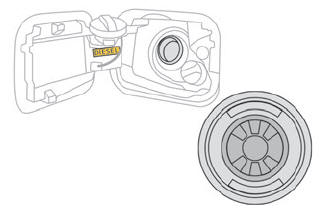 When a petrol filler nozzle is inserted into the fuel filler neck of a Diesel vehicle, it comes into contact with the flap. The system remains closed and prevents filling.
Do not persist but introduce a Diesel type filler nozzle.

It remains possible to use a fuel jerrycan to fill the tank.

Travelling abroad
As Diesel fuel pump nozzles may be different in other countries, the presence of the misfuel prevention device may make refuelling impossible.
Before travelling abroad, it is advisable to check with a CITROËN dealer if the vehicle is suitable for the distribution equipment of the countries visited.