Citroen C3: Back-up procedures / Central locking not functioning
Use these procedures in the following cases:
Central locking malfunction.
Battery disconnected or discharged.
In the event of a malfunction of the central locking system, the battery must be disconnected to ensure that the vehicle is locked fully.
Driver's door
Turn the key towards the rear of the vehicle to lock it, or towards the front to unlock it.
Passenger doors
Unlocking
Pull the interior door opening control.
Locking
Open the doors.
For the rear doors, check that the child lock is not on.
Refer to the corresponding section.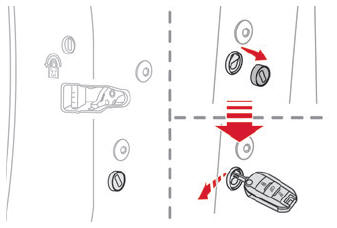 Remove the black cap, located on the edge of the door, using the key.
Insert the key into the socket without forcing it, then turn the latch towards the inside of the door.
Remove the key and refit the black cap.
Close the doors and check from the outside that the vehicle is locked.
Lost keys, remote control, electronic key Visit a CITROËN dealer with the vehicle's registration certificate, a personal identification document and, if possible, the label bearing the key code...
A message is displayed on the instrument panel when the battery needs changing. Without Keyless Entry and Starting Battery type: CR2032 / 3 volts. With Keyless Entry and Starting Battery type: CR2032 / 3 volts...
Other information:
In accordance with European regulations, this table indicates the options for installing universally approved (a) child seats secured using the seat belt, based on the child's weight and the seat position in the vehicle. U: Seat position suitable for installing a child seat secured using the seat belt and universally approved for "rearward facing" and/or "forward facing" use...
The engine represented is an example given for illustration purposes only. The locations of the following elements may vary: Air filter. Engine oil dipstick. Engine oil filler cap. Petrol engine Diesel engine Screenwash fluid reservoir Engine coolant reservoir Brake fluid reservoir Battery Remote earth point (-) Fusebox Air filter Engine oil filler cap Engine oil dipstick Primi..