Citroen C3: Back-up procedures / Central locking not functioning
Use these procedures in the following cases:
Central locking malfunction.
Battery disconnected or discharged.
In the event of a malfunction of the central locking system, the battery must be disconnected to ensure that the vehicle is locked fully.
Driver's door
Turn the key towards the rear of the vehicle to lock it, or towards the front to unlock it.
Passenger doors
Unlocking
Pull the interior door opening control.
Locking
Open the doors.
For the rear doors, check that the child lock is not on.
Refer to the corresponding section.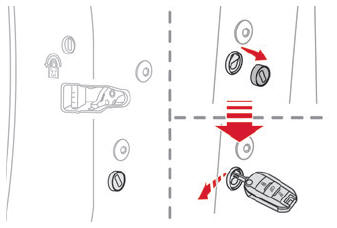 Remove the black cap, located on the edge of the door, using the key.
Insert the key into the socket without forcing it, then turn the latch towards the inside of the door.
Remove the key and refit the black cap.
Close the doors and check from the outside that the vehicle is locked.
Categories
Copyright © 2023 www.citroenc3.org