Citroen C3: Back-up procedures / Changing the battery
A message is displayed on the instrument panel when the battery needs changing.
Without Keyless Entry and Starting Battery type: CR2032 / 3 volts.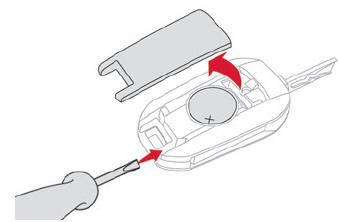 With Keyless Entry and Starting Battery type: CR2032 / 3 volts.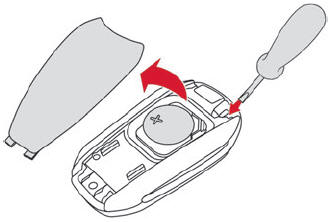 Unclip the cover by inserting a small screwdriver in the slot and raise the cover.
Remove the discharged battery from its housing.
Insert the new battery, observing the polarity, and clip the cover onto the housing.
Reinitialise the remote control.
For more information on Reinitialising the remote control, refer to the corresponding section.

Do not throw remote control batteries away, as they contain metals that are harmful to the environment. Take them to an approved disposal point.
Use these procedures in the following cases: Central locking malfunction. Battery disconnected or discharged. In the event of a malfunction of the central locking system, the battery must be disconnected to ensure that the vehicle is locked fully...
Following replacement of the battery or in the event of a fault, it may be necessary to reinitialise the remote control. Without Keyless Entry and Starting Switch off the ignition...
Other information:
The touch screen gives access to: The heating/air conditioning controls. The menus for adjusting settings for vehicle functions and systems. The audio system and telephone controls and the display of associated information.And, depending on equipment, allows: The display of alert messages and the visual parking sensors information...
Before switching off the engine, it is possible to engage position P or N to place the gearbox in neutral. In both cases, apply the parking brake to immobilise the vehicle, unless it is programmed to automatic mode. If the selector is not in position P, when the driver's door is opened or approximately 45 seconds after the ignition is switched off, an audible signal sounds and a message ..