Citroen C3: Back-up procedures / Reinitialising the remote control
Following replacement of the battery or in the event of a fault, it may be necessary to reinitialise the remote control.
Without Keyless Entry and Starting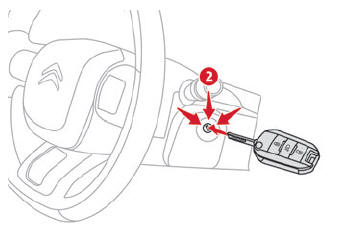 Switch off the ignition.
Return the key to position 2 (Ignition on).
Immediately press the closed padlock button for a few seconds.
Switch off the ignition and remove the key 2 from the switch.
The remote control is now fully operational again.
With Keyless Entry and Starting

Insert the mechanical key (incorporated into the remote control) into the lock to open the vehicle.

Place the electronic key against the back-up reader on the steering column and hold it there until the ignition is switched on.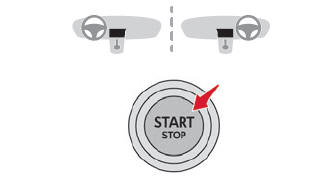 Switch on the ignition by pressing the "START/STOP" button.
With a manual gearbox, place the gear lever in neutral then fully depress the clutch pedal.
With an automatic gearbox, while in mode P, depress the brake pedal.
If the fault persists after reinitialisation, contact a CITROËN dealer or a qualified workshop without delay.
Categories
Copyright © 2023 www.citroenc3.org