Citroen C3: Ease of use and comfort / Heated seats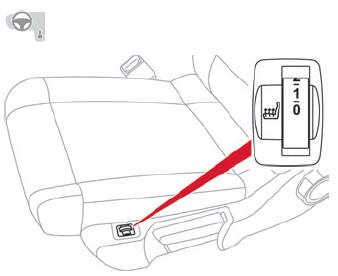 With the engine running, use the adjustment knob to switch on and select the level of heating required:
0 : Off.
1 : Low.
2 : Medium.
3 : High.
The front seats can be heated individually.

Do not use the function when the seat is not occupied.
Reduce the heating intensity as soon as possible.
When the seat and passenger compartment have reached a satisfactory temperature, switch the function off; reducing electricity consumption in turn decreases fuel consumption.

Prolonged use of heated seats is not recommended for people with sensitive skin.
There is a risk of burns for people whose perception of heat is impaired (illness, taking medication, etc.).
To keep the heated pad intact and to prevent a short circuit:
Do not place heavy or sharp objects on the seat.
Do not kneel or stand on the seat.
Do not spill liquids onto the seat.
Never use the heating function if the seat is damp.