Citroen C3: Lighting and visibility / Direction indicators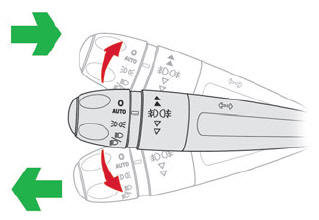 Left or right: lower or raise the lighting control stalk, beyond the point of resistance.
If you forget to cancel the direction indicators for more than 20 seconds, the volume of the audible signal will increase if the speed is above 50 mph (80 km/h).
Three flashes
Press briefly upwards or downwards, without going beyond the point of resistance; the direction indicators will flash 3 times.
Parking lamps
Vehicle side marking by illumination of the sidelamps on the traffic side only.
Depending on version, within one minute of switching off the ignition, operate the lighting control stalk up or down, according to the traffic side (for example, when parking on the left, turn the lighting control stalk upwards; the right-hand sidelamps come on).
This action is confirmed by an audible signal and illumination of the corresponding direction indicator lamp in the instrument panel.
To switch off the parking lamps, return the lighting control stalk to the central position.