Citroen C3: Access / Central locking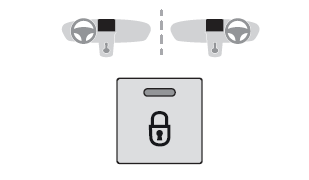 Manual
Press this button to lock/unlock the vehicle (doors and boot) from inside the vehicle.
The indicator lamp comes on to confirm the central locking of the vehicle.
The central locking does not take place if one of the doors is open.

When locking/deadlocking from the outside
When the vehicle is locked or deadlocked from the outside, the indicator lamp flashes and the button is inoperative.
After normal locking, pull one of the interior door controls to unlock the vehicle.
After deadlocking, it is necessary to use the remote control, Keyless Entry and Starting or the integral key to unlock the vehicle.
Automatic (anti-intrusion security)
The doors and boot lock automatically while driving (speed above 6 mph (10 km/h)).
To deactivate/reactivate this function (activated by default):
Press the button until an audible warning is triggered and a confirmation message appears.

Transporting long or voluminous objects
Press the central locking control to drive with the boot open and the doors locked. Otherwise, every time the speed of the vehicle exceeds 6 mph (10 km/h), the locks will rebound and an alert will appear. Pressing the central locking button unlocks the vehicle.
Above 6 mph (10 km/h), this unlocking is temporary.