Citroen C3: In the event of a breakdown / Warning triangle
As a safety precaution, before leaving your vehicle to set up and install the triangle, switch on the hazard warning lamps and put on your high visibility vest.
The triangle can be stored on the back panel of the boot, attached with straps.
Assembling and placing the triangle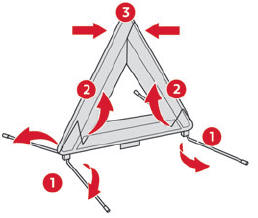 For versions supplied with a triangle as original equipment, refer to the illustration above.
For other versions, refer to the assembly instructions provided with the triangle.
Put the triangle in place behind the vehicle, as required by local legislation.
With Diesel engines, the fuel system must be primed if you run out of fuel. Before starting to prime the system, it is essential to put at least 5 litres of Diesel into the fuel tank...
Other information:
This is signalled by the fixed illumination of this warning lamp, accompanied by an audible signal and, depending on equipment, the display of a message. Reduce speed immediately, avoid excessive steering movements and avoid sudden braking. Stop the vehicle as soon as it is safe to do so...
An incorrectly installed child seat compromises the child's safety in the event of an accident. Ensure that there is no seat belt or seat belt buckle under the child seat, as this could destabilise it. Remember to fasten the seat belts or the harness of child seats, keeping the slack relative to the child's body to a minimum, even for short journeys...