Citroen C3: In the event of a breakdown / Warning triangle
As a safety precaution, before leaving your vehicle to set up and install the triangle, switch on the hazard warning lamps and put on your high visibility vest.
The triangle can be stored on the back panel of the boot, attached with straps.
Assembling and placing the triangle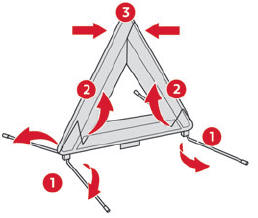 For versions supplied with a triangle as original equipment, refer to the illustration above.
For other versions, refer to the assembly instructions provided with the triangle.
Put the triangle in place behind the vehicle, as required by local legislation.
With Diesel engines, the fuel system must be primed if you run out of fuel. Before starting to prime the system, it is essential to put at least 5 litres of Diesel into the fuel tank...
Other information:
The heating only operates when the engine is running. The manual air conditioning operates when the engine is running. Recirculation of interior air Temperature adjustment Air distribution adjustment Air flow adjustment Air conditioning on/off Adjusting the temperature Turn the knob 2 from blue (cold) to red (hot)...
For optimum service life of the battery, it is essential to maintain an adequate state of charge. In some circumstances, it may be necessary to charge the battery: using the vehicle mainly for short journeys; if the vehicle is to be taken off the road for several weeks...