Citroen C3: In the event of a breakdown / Warning triangle
As a safety precaution, before leaving your vehicle to set up and install the triangle, switch on the hazard warning lamps and put on your high visibility vest.
The triangle can be stored on the back panel of the boot, attached with straps.
Assembling and placing the triangle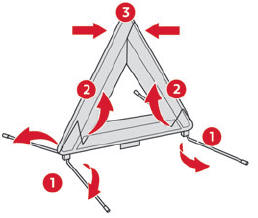 For versions supplied with a triangle as original equipment, refer to the illustration above.
For other versions, refer to the assembly instructions provided with the triangle.
Put the triangle in place behind the vehicle, as required by local legislation.
With Diesel engines, the fuel system must be primed if you run out of fuel. Before starting to prime the system, it is essential to put at least 5 litres of Diesel into the fuel tank...
Other information:
Never look too closely at the luminous beam of LED lamps: risk of serious eye injury! In some weather conditions (e.g. low temperature or humidity), misting on the internal surface of the glass of the headlamps and rear lamps is normal, and will disappear after the lamps have been on for a few minutes...
With the electronic key in the passenger compartment, pressing the "START/STOP" button, without pressing any of the pedals, allows the ignition to be switched on without starting the engine. Press this button again to switch off the ignition and allow the vehicle to be locked...