Citroen C3: Driving recommendations / On flooded roads
We strongly advise against driving on flooded roads, as this could cause serious damage to the engine or gearbox, as well as to the electrical systems of your vehicle.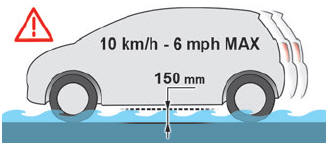 If you are obliged to drive on a flooded road:
check that the depth of water does not exceed 15 cm, taking account of waves that might be generated by other users,
deactivate the Stop & Start function,
drive as slowly as possible without stalling. In all cases, do not exceed 6 mph (10 km/h),
do not stop and do not switch off the engine.
On leaving the flooded road, as soon as safety conditions allow, make several light brake applications to dry the brake discs and pads. If in doubt about the state of your vehicle, contact a CITROËN dealer or a qualified workshop.
Never leave the engine running in a closed space without sufficient ventilation. Internal combustion engines emit toxic exhaust gases such as carbon monoxide...
Driving with a trailer places greater demands on the towing vehicle and requires extra care from the driver. Respect the maximum towable weights...
Other information:
Before switching off the engine, it is possible to engage position P or N to place the gearbox in neutral. In both cases, apply the parking brake to immobilise the vehicle, unless it is programmed to automatic mode. If the selector is not in position P, when the driver's door is opened or approximately 45 seconds after the ignition is switched off, an audible signal sounds and a message ..
Voice commands: This control is located on the steering wheel or at the end of the lighting control stalk (depending on equipment). Short press, smartphone voice commands via the system. Increase volume. Decrease volume. Mute by pressing the volume increase and decrease buttons simultaneously (depending on equipment). Restore the sound by pressing one of the two volume buttons. Media (s..