Citroen C3: Driving / Parking brake
Release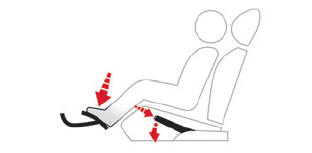 Pull the parking brake lever up slightly, press the release button, then lower the lever fully.

When driving the vehicle, if this warning lamp and the STOP warning lamp come on, accompanied by an audible signal and the display of a message, this means that the parking brake is still applied or has not been fully released.
Application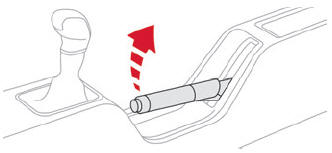 Pull the parking brake lever up to immobilise the vehicle.

When towing, parking on a steep slope, or if your vehicle is heavily laden, turn the wheels towards the kerb and engage a gear (manual gearbox) or move the selector lever to position P (automatic gearbox). For towing, your vehicle is approved for parking on slopes of up to 12%.
Key not detected Back-up starting A back-up reader is fitted to the steering column so that the engine can be started if the system does not detect the key in the recognition zone, or if the battery in the electronic key is flat...
Engaging reverse gear Fully depress the clutch pedal. Push the gear lever fully to the right, then backwards. Only engage reverse gear when the vehicle is stationary with the engine at idle...
Other information:
With the engine running, a press mutes the sound. With the ignition off, a press turns the system on. Increase or decrease the volume using the thumbwheel on the left-hand side. To access the menus, press this button on the touch screen. Press the back arrow to go back a level...
Never leave the engine running in a closed space without sufficient ventilation. Internal combustion engines emit toxic exhaust gases such as carbon monoxide. Danger of poisoning and death! In severe wintry conditions (temperature below -23°C), let the engine run for 4 minutes before moving off, to ensure the correct operation and durability of the mechanical components of your vehicl..