Citroen C3: Safety / Deactivating/Reactivating the front passenger airbag
For vehicles on which it is fitted, the control is located inside the glove box.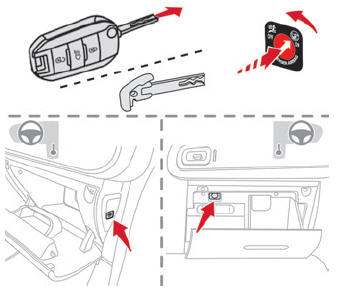 With the ignition off:
To deactivate the airbag, turn the key in the switch to the "OFF" position.
To reactivate it, turn the key to the "ON" position.
When the ignition is switched on:

This warning lamp comes on and remains lit to signal the deactivation.
Or

This warning lamp comes on for about 1 minute to signal the activation.
Passenger airbag OFF For your child's safety, the front passenger airbag MUST be deactivated when a "rearward facing" child seat is installed on the front passenger seat...
Range of recommended child seats secured using a three-point seat belt. ..
Other information:
(Depending on country of sale.) This mechanical device prevents filling the tank of a Diesel vehicle with petrol. Located in the filler neck, the misfuel prevention device is visible when the filler cap is removed. Operation When a petrol filler nozzle is inserted into the fuel filler neck of a Diesel vehicle, it comes into contact with the flap. The system remains closed and prevents fillin..
Hazard warning lamps Pressing the red button causes all the direction indicators to flash. They can operate with the ignition off. Automatic operation of hazard warning lamps When braking in an emergency, depending on the rate of deceleration, the hazard warning lamps come on automatically. They switch off automatically when you next accelerate. They can be turned off by pressing the butt..