Citroen C3: Safety / Deactivating/Reactivating the front passenger airbag
For vehicles on which it is fitted, the control is located inside the glove box.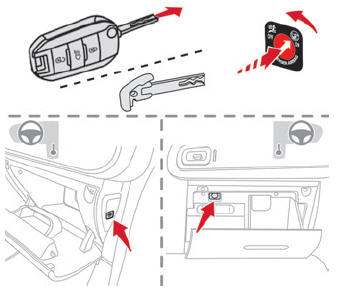 With the ignition off:
To deactivate the airbag, turn the key in the switch to the "OFF" position.
To reactivate it, turn the key to the "ON" position.
When the ignition is switched on:

This warning lamp comes on and remains lit to signal the deactivation.
Or

This warning lamp comes on for about 1 minute to signal the activation.
Passenger airbag OFF For your child's safety, the front passenger airbag MUST be deactivated when a "rearward facing" child seat is installed on the front passenger seat...
Range of recommended child seats secured using a three-point seat belt. ..
Other information:
If there is no telephone connected by Bluetooth, a voice message announces: "Please first connect a telephone", and the voice session will be closed. Voice commands Call contact <...>* Dial <…>* Display contacts* Display calls* Call (message box | voicemail)* Help messages To make a phone call, say "call" followed by the contact name, for example: "Call David Miller". You ca..
With the engine running, a press mutes the sound. With the ignition off, a press turns the system on. Increase or decrease the volume using the wheel or the "plus" or "minus" buttons (depending on the equipment). Use the buttons on either side of or below the touch screen for access to the menus, then press the virtual buttons in the touch screen. Depending on the model, use the "Source" o..