Citroen C3: Ease of use and comfort / Correct driving position

For safety reasons, adjustments must only be made when the vehicle is stationary.
Before taking to the road and to make the most of the ergonomic layout of the instruments and controls, carry out these adjustments in the following order:
head restraint height.
seat backrest angle.
seat cushion height.
longitudinal seat position.
steering wheel height.
rear view mirror and door mirrors.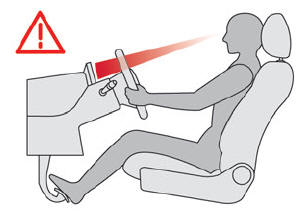 Once these adjustments have been made, check that the instrument panel can be viewed correctly from your driving position.
Height adjustment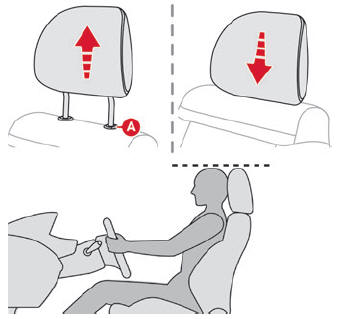 Upward: pull the head restraint up to the desired position; the head restraint can be felt to click into position.
Downward: press lug A to lower the head restraint.

The adjustment is correct when the upper edge of the head restraint is level with the top of the head.
Removing a head restraint
Pull the head restraint fully up.
Press lug A to release the head restraint and raise it fully.
Stow the head restraint securely.
Refitting a head restraint
Insert the head restraint rods into the guides in the corresponding seat backrest.
Push the head restraint down as far as it will go.
Press the lug A to release the head restraint and push it down.
Adjust the height of the head restraint.

Never drive with the head restraints removed; they should be in place and adjusted for the occupant of the seat.
For safety reasons, seat adjustments must only be made when the vehicle is stationary. Before moving the seat backwards, ensure that there is no person or object that might prevent the full travel of the seat...
Other information:
The remote control can be used for the following remote functions, depending on version: Unlocking / Locking / Deadlocking the vehicle. Opening the fuel tank cap. Remote operation of lighting. Activating / Deactivating the alarm. Locating the vehicle...
This maintenance position is used while cleaning or replacing the wiper blades. It can also be useful, in wintry weather (ice, snow), to release the wiper blades from the windscreen. To maintain the effectiveness of the flat wiper blades, it is advisable to: handle them with care...