Citroen C3: Practical information / AIRBUMP® protections
Located on the sides of your vehicle, they protect the bodywork by resisting everyday bumps and scrapes caused by parking posts, opening doors, scratches, etc.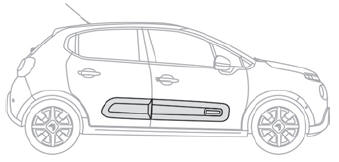 Maintenance of AIRBUMP®
The AIRBUMP® do not require any specific maintenance.
Clean them using water or one of the products available from a CITROËN dealer. To protect the AIRBUMP® against premature ageing, do not use polish.
High-gloss paint Do not use abrasive products or solvents, petrol or oil to clean the bodywork. Never use an abrasive sponge to clean stubborn stains...
Other information:
Selecting the source Press the "Media" menu. Press the "SOURCE" button. Select the source (USB, Bluetooth or AUX, depending on equipment). USB port 10 Insert the USB memory stick into the USB port or connect the USB device to the USB port using a suitable cable (not supplied). To protect the system, do not use a USB hub. The system builds playlists (in temporary memory); this operation can..
Engine self-diagnostics system Flashing. The engine management system has a fault. There is a risk that the catalytic converter will be destroyed. You must carry out (2). Fixed. The emissions control system has a fault. The warning lamp should go off when the engine is started. Carry out (3) without delay. Engine self-diagnostics system(Petrol or Diesel) Fixed. A minor engine fault has been..