Citroen C3: Practical information / AIRBUMP® protections
Located on the sides of your vehicle, they protect the bodywork by resisting everyday bumps and scrapes caused by parking posts, opening doors, scratches, etc.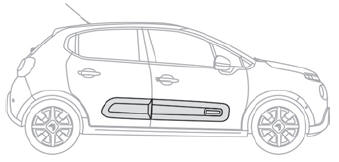 Maintenance of AIRBUMP®
The AIRBUMP® do not require any specific maintenance.
Clean them using water or one of the products available from a CITROËN dealer. To protect the AIRBUMP® against premature ageing, do not use polish.
High-gloss paint Do not use abrasive products or solvents, petrol or oil to clean the bodywork. Never use an abrasive sponge to clean stubborn stains...
Other information:
For optimum service life of the battery, it is essential to maintain an adequate state of charge. In some circumstances, it may be necessary to charge the battery: using the vehicle mainly for short journeys; if the vehicle is to be taken off the road for several weeks. Contact a CITROËN dealer or a qualified workshop. To charge the vehicle's battery yourself, use only a charger comp..
The fusebox is located in the engine compartment, near the battery. Accessing the fuses Unclip the cover. Replace the fuse. After the operation, close the cover very carefully to ensure correct sealing of the fusebox. Table of fuses ..