Citroen C3: Practical information / AIRBUMP® protections
Located on the sides of your vehicle, they protect the bodywork by resisting everyday bumps and scrapes caused by parking posts, opening doors, scratches, etc.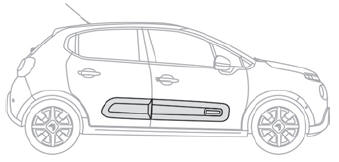 Maintenance of AIRBUMP®
The AIRBUMP® do not require any specific maintenance.
Clean them using water or one of the products available from a CITROËN dealer. To protect the AIRBUMP® against premature ageing, do not use polish.
High-gloss paint Do not use abrasive products or solvents, petrol or oil to clean the bodywork. Never use an abrasive sponge to clean stubborn stains...
Other information:
Radio Select a radio station. Media Select an audio source. Telephone Connect a mobile phone via Bluetooth®. Driving Activate, deactivate or configure certain vehicle functions (depending on equipment/version). Settings Adjust the sound settings (balance, ambience, etc.), the display (language, units, date, time, etc.) or configure the system (privacy)...
You can adjust the date and time in the instrument panel display. Hold this button down. Press one of these buttons to select the setting to be changed. Press this button briefly to confirm. Press one of these buttons to change the setting and confirm again to register the change. ..