Citroen C3: Practical information / AIRBUMP® protections
Located on the sides of your vehicle, they protect the bodywork by resisting everyday bumps and scrapes caused by parking posts, opening doors, scratches, etc.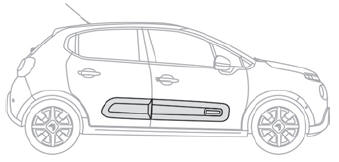 Maintenance of AIRBUMP®
The AIRBUMP® do not require any specific maintenance.
Clean them using water or one of the products available from a CITROËN dealer. To protect the AIRBUMP® against premature ageing, do not use polish.
High-gloss paint Do not use abrasive products or solvents, petrol or oil to clean the bodywork. Never use an abrasive sponge to clean stubborn stains...
Other information:
On the smartphone, download the Android Auto application. The "Android Auto" function requires the use of a compatible smartphone and applications. Telephone not connected by Bluetooth® Connect a USB cable. The smartphone charges when connected by a USB cable. From the system, press "Telephone" to display the main page. Press "Android Auto" to start the application in the system. D..
Immobilise the vehicle. With the engine at idle, turn the key to position 1. Remove the key from the ignition switch. To lock the steering column, turn the steering wheel until it locks. To facilitate unlocking of the steering column, it is recommended that the wheels be returned to the straight ahead position before switching off the engine. Never switch off the ignition before t..