Citroen C3: Practical information / AIRBUMP® protections
Located on the sides of your vehicle, they protect the bodywork by resisting everyday bumps and scrapes caused by parking posts, opening doors, scratches, etc.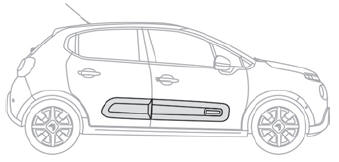 Maintenance of AIRBUMP®
The AIRBUMP® do not require any specific maintenance.
Clean them using water or one of the products available from a CITROËN dealer. To protect the AIRBUMP® against premature ageing, do not use polish.
High-gloss paint Do not use abrasive products or solvents, petrol or oil to clean the bodywork. Never use an abrasive sponge to clean stubborn stains...
Other information:
These systems enhance the vehicle's stability and handling during braking, and enable greater control while cornering, particularly on poor or slippery road surfaces. ABS prevents wheel locking in the event of emergency braking. EBFD manages the braking pressure wheel by wheel. This warning lamp comes on fixed in the event of an ABS malfunction. The vehicle retains conventional braking. ..
Fuel tank capacity: approximately 45 or 47 litres (petrol) or 42 or 50 litres (Diesel). Reserve level: approximately 5 litres. Low fuel level When the low fuel level is reached, one of these warning lamps comes on on the instrument panel, accompanied by an onscreen message and an audible signal. When it first comes on, about 5 litres of fuel remain. Depending on equipment, the low fuel le..