Citroen C3: Practical information / AIRBUMP® protections
Located on the sides of your vehicle, they protect the bodywork by resisting everyday bumps and scrapes caused by parking posts, opening doors, scratches, etc.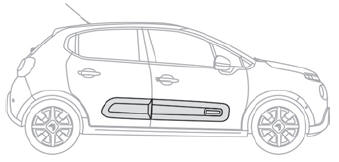 Maintenance of AIRBUMP®
The AIRBUMP® do not require any specific maintenance.
Clean them using water or one of the products available from a CITROËN dealer. To protect the AIRBUMP® against premature ageing, do not use polish.
High-gloss paint Do not use abrasive products or solvents, petrol or oil to clean the bodywork. Never use an abrasive sponge to clean stubborn stains...
Other information:
Refer to the General recommendations on the use of driving and manoeuvring aids. The reversing camera is activated automatically when reverse gear is engaged. The image is displayed on the touch screen. The reversing camera function may be supplemented by the parking sensors. The blue lines 1 indicate the general direction of the vehicle (the gap corresponds to the width of your vehicle in..
(Depending on country of sale.) This camera, installed at the top of the windscreen and connected wirelessly, allows you to: Take photos and videos on demand and share them. Send the vehicle's GPS coordinates to a smartphone. Record videos automatically in the event of a vehicle impact. As the use of the CITROËN ConnectedCAM® is under your control and your responsibility, you mu..