Citroen C3: Remote control / Key / Remote control function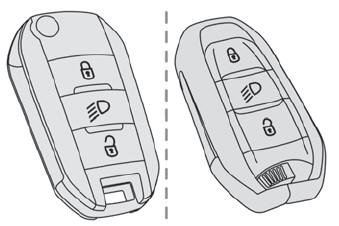 The remote control can be used for the following remote functions, depending on version:
Unlocking / Locking / Deadlocking the vehicle.
Opening the fuel tank cap.
Remote operation of lighting.
Activating / Deactivating the alarm.
Locating the vehicle.
Activating the vehicle's electronic immobiliser.
The remote control includes a conventional key that allows the central unlocking / locking of the vehicle using the door lock, as well as starting and switching off the engine.
Back-up procedures allow the vehicle to be locked / unlocked in the event of a failure of the remote control, the central locking, the battery, etc. For more information on the Back-up procedures, please refer to the corresponding section.
The key built into the remote control can be used for the following operations, depending on version: Unlocking/Locking/Deadlocking the vehicle. Activation/Deactivation of the manual child lock...
Other information:
With the engine running, a press mutes the sound. With the ignition off, a press turns the system on. Increase or decrease the volume using the wheel or the "plus" or "minus" buttons (depending on the equipment). Use the buttons on either side of or below the touch screen for access to the menus, then press the virtual buttons in the touch screen...
The following information groups together the answers to the most frequently asked questions concerning the system. Radio The reception quality of the tuned radio station gradually deteriorates or the station presets are not working (no sound, 87...