Citroen C3: Starting / Switching off the engine with the key / Key ignition switch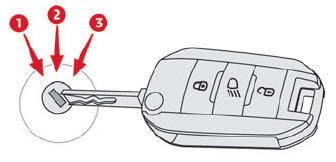 It has 3 positions:
1. Stop: inserting and removing the key, steering column locked.
2. Ignition: steering column unlocked, ignition on, Diesel preheating, engine running.
3. Starting.

Avoid attaching heavy objects to the key or the remote control. It would weigh down on its shaft in the ignition switch and could cause a malfunction.
Ignition on position
It allows the use of the vehicle's electric equipment or portable devices to be charged. Once the state of charge of the battery drops to the reserve level, the system switches to energy economy mode : the power supply is cut off automatically to preserve the remaining battery charge.
With the parking brake applied: With a manual gearbox, place the gear lever in neutral then fully depress the clutch pedal. With an automatic gearbox, place the gear selector in mode N or P then fully depress the brake pedal...
Other information:
When stationary, pull the control to release the steering wheel. Adjust the height and reach to suit your driving position. Push the control lever to lock the steering wheel. As a safety measure, these adjustments must only be carried out with the vehicle stationary...
(Depending on version.) On versions fitted with an electric oil level indicator, the engine oil level status is displayed on the instrument panel for a few seconds upon switching the ignition on, after the servicing information. The level read will only be correct if the vehicle is on level ground and the engine has been off for more than 30 minutes...