Citroen C3: Starting / Switching off the engine with the key / Key ignition switch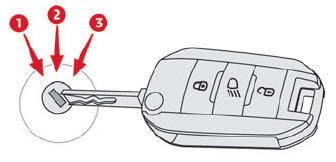 It has 3 positions:
1. Stop: inserting and removing the key, steering column locked.
2. Ignition: steering column unlocked, ignition on, Diesel preheating, engine running.
3. Starting.

Avoid attaching heavy objects to the key or the remote control. It would weigh down on its shaft in the ignition switch and could cause a malfunction.
Ignition on position
It allows the use of the vehicle's electric equipment or portable devices to be charged. Once the state of charge of the battery drops to the reserve level, the system switches to energy economy mode : the power supply is cut off automatically to preserve the remaining battery charge.
With the parking brake applied: With a manual gearbox, place the gear lever in neutral then fully depress the clutch pedal. With an automatic gearbox, place the gear selector in mode N or P then fully depress the brake pedal...
Other information:
To avoid causing a nuisance to other road users, the height of the headlamp beams should be adjusted according to the load in the vehicle. 0. (Initial adjustment) Driver only or driver + front passenger -. Driver + front passenger + rear passengers 1...
Parking the vehicle Immobilise the vehicle where it does not obstruct traffic: the ground must be level, stable and non-slippery. With a manual gearbox, engage first gear to lock the wheels, apply the parking brake, unless it is programmed to be in automatic mode, and switch off the ignition...