Citroen C3: Starting / Switching off the engine with the key / Key ignition switch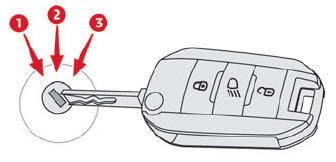 It has 3 positions:
1. Stop: inserting and removing the key, steering column locked.
2. Ignition: steering column unlocked, ignition on, Diesel preheating, engine running.
3. Starting.

Avoid attaching heavy objects to the key or the remote control. It would weigh down on its shaft in the ignition switch and could cause a malfunction.
Ignition on position
It allows the use of the vehicle's electric equipment or portable devices to be charged. Once the state of charge of the battery drops to the reserve level, the system switches to energy economy mode : the power supply is cut off automatically to preserve the remaining battery charge.
With the parking brake applied: With a manual gearbox, place the gear lever in neutral then fully depress the clutch pedal. With an automatic gearbox, place the gear selector in mode N or P then fully depress the brake pedal...
Other information:
Release Pull the parking brake lever up slightly, press the release button, then lower the lever fully. When driving the vehicle, if this warning lamp and the STOP warning lamp come on, accompanied by an audible signal and the display of a message, this means that the parking brake is still applied or has not been fully released...
These markings on the control panels indicate the control positions for rapid demisting or defrosting of the windscreen and side windows. During the winter period, direct the side air vents towards the side windows to optimise their demisting and defrosting...