Citroen C3: Starting / Switching off the engine with the key / Key ignition switch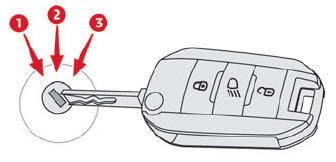 It has 3 positions:
1. Stop: inserting and removing the key, steering column locked.
2. Ignition: steering column unlocked, ignition on, Diesel preheating, engine running.
3. Starting.

Avoid attaching heavy objects to the key or the remote control. It would weigh down on its shaft in the ignition switch and could cause a malfunction.
Ignition on position
It allows the use of the vehicle's electric equipment or portable devices to be charged. Once the state of charge of the battery drops to the reserve level, the system switches to energy economy mode : the power supply is cut off automatically to preserve the remaining battery charge.
With the parking brake applied: With a manual gearbox, place the gear lever in neutral then fully depress the clutch pedal. With an automatic gearbox, place the gear selector in mode N or P then fully depress the brake pedal...
Other information:
Emergency braking assistance (EBA) In an emergency, this system enables you to reach the optimum braking pressure more quickly and therefore reduce the stopping distance. It is triggered in relation to the speed at which the brake pedal is pressed...
With Diesel engines, the fuel system must be primed if you run out of fuel. Before starting to prime the system, it is essential to put at least 5 litres of Diesel into the fuel tank. For more information on Refuelling and on Misfuel prevention (Diesel), please refer to the corresponding section...