Citroen C3: Technical data / Identification markings
Various visible markings for vehicle identification and vehicle search.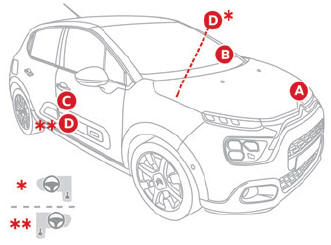 A. Vehicle Identification Number (VIN), under the bonnet.
Stamped on the chassis.
B. Vehicle Identification Number (VIN), on the dashboard.
Printed on an adhesive label visible through the windscreen.
C. Manufacturer's label.
Affixed to the right-hand door.
Bears the following information:
Manufacturer's name.
European whole vehicle type approval number.
Vehicle Identification number (VIN).
Gross vehicle weight (GVW).
Gross train weight (GTW).
Maximum weight on the front axle.
Maximum weight on the rear axle.
D. Tyres/paint code label.

Affixed to the driver's door.
Bears the following information about the tyres:
Tyre pressures, unladen and laden.
Tyre specification, made up of the dimensions and type as well as the load and speed indices.
Spare tyre inflation pressure.
Also indicates the paint colour code.

The vehicle may be originally equipped with tyres with higher load and speed indices than those indicated on the label, without affecting tyre pressure (on cold tyres).
Multimedia audio system - Bluetooth® telephone The functions and settings described vary according to the vehicle version and configuration. For safety reasons and because they require sustained attention by the driver, the following operations must be carried out with the vehicle stationary and the ignition on: Pairing the smartphone with the system in Bluetooth mode...
Other information:
Never look too closely at the luminous beam of LED lamps: risk of serious eye injury! In some weather conditions (e.g. low temperature or humidity), misting on the internal surface of the glass of the headlamps and rear lamps is normal, and will disappear after the lamps have been on for a few minutes...
Range (miles or km) The distance which can still be travelled with the fuel remaining in the tank (at the average fuel consumption seen over the last few miles (kilometres) travelled). This value may fluctuate if a change of driving style or terrain results in a significant change in the current fuel consumption...