Citroen C3: Ease of use and comfort / Heating/Manual air conditioning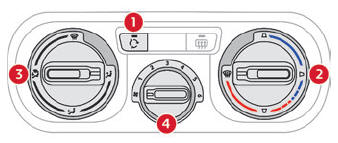 The heating only operates when the engine is running.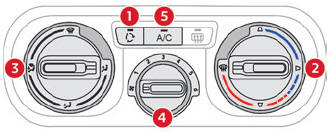 The manual air conditioning operates when the engine is running.
Recirculation of interior air
Temperature adjustment
Air distribution adjustment
Air flow adjustment
Air conditioning on/off
Adjusting the temperature
Turn the knob 2 from blue (cold) to red (hot).
Adjusting the air flow
Turn the knob 4 to obtain a comfortable air flow.
Adjusting the air flow

Central and side air vents.

Footwells.

Windscreen and footwells.
Windscreen.

The distribution of the air can be adjusted by placing the control in an intermediate position.
Air intake/Air recirculation
The recirculation of interior air function isolates the passenger compartment from outside fumes and odours, and enables the air inside the passenger compartment to be heated or cooled more quickly.
Press button 1 to choose the passenger compartment air intake mode.
When the indicator lamp is off, the exterior air intake function is activated.
When the indicator lamp is on, the air recirculation function is activated; the intake of exterior air is inhibited.
Air conditioning on/off
The air conditioning is designed to operate effectively in all seasons, with the windows closed.
It enables you to:
lower the temperature, in summer,
increase the effectiveness of the demisting in winter, above 3°C.
Press button 5 to turn the air conditioning on/off.

The air conditioning cannot operate when the air flow adjustment is set to OFF.