Citroen C3: Safety / Hazard warning lamps. Horn
Hazard warning lamps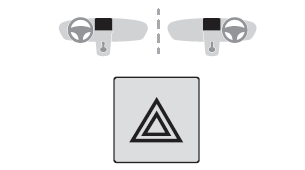 Pressing the red button causes all the direction indicators to flash.
They can operate with the ignition off.
Automatic operation of hazard warning lamps
When braking in an emergency, depending on the rate of deceleration, the hazard warning lamps come on automatically. They switch off automatically when you next accelerate.
They can be turned off by pressing the button again.
Horn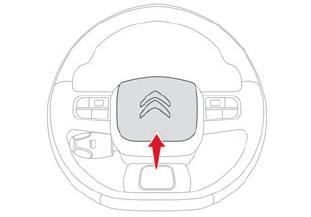 Press the central part of the steering wheel.
Do not remove the labels attached in different places on your vehicle. They include safety warnings as well as identification information for the vehicle...
Other information:
In AUTO mode, the windscreen wipers operate automatically, without any action on the part of the driver. If rain is detected, the wiping adapts to the intensity of the rainfall automatically. Detection of rainfall is by means of a rain/sunshine sensor at the top centre of the windscreen, behind the rear view mirror. Do not cover the rain/sunshine sensor. When using an automatic car wash, s..
Normal locking With the electronic key in the recognition zone, press with a finger or thumb on one of the front door handles (at the markings) to lock the vehicle. It is not possible to lock the vehicle if one of the keys is left inside the vehicle. The illumination of the direction indicators for a few seconds signals: The locking of the vehicle for versions without alarm. act..