Citroen C3: Safety / Hazard warning lamps. Horn
Hazard warning lamps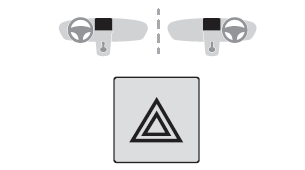 Pressing the red button causes all the direction indicators to flash.
They can operate with the ignition off.
Automatic operation of hazard warning lamps
When braking in an emergency, depending on the rate of deceleration, the hazard warning lamps come on automatically. They switch off automatically when you next accelerate.
They can be turned off by pressing the button again.
Horn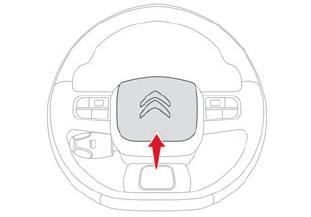 Press the central part of the steering wheel.
Do not remove the labels attached in different places on your vehicle. They include safety warnings as well as identification information for the vehicle...
Other information:
Pull the wiper control stalk towards you and hold. The screenwash then the windscreen wipers operate for a pre-determined time. The screenwash jets are not adjustable. Do not handle them (risk of damage). To avoid damaging the wiper blades, do not operate the screenwash if the screenwash reservoir is empty. Only operate the screenwash if there is no risk of the fluid freezing on the ..
Refer to the General recommendations on the use of driving and manoeuvring aids. This system, using a camera which recognises solid or broken lines, detects the involuntary crossing of longitudinal traffic lane markings on the ground. If the driver's attention drops and the speed is higher than 37 mph (60 km/h), the system triggers a warning if there is an unexpected change of direction. Th..