Citroen C3: Indicators / Engine coolant temperature indicator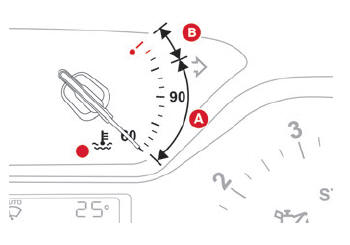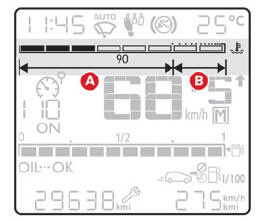 With the engine running:
In zone A, the temperature is correct.
In zone B, the temperature is too high; the associated warning lamp and the central STOP warning lamp come on in red on the instrument panel, accompanied by the display of a message and an audible signal.
You must stop the vehicle as soon as it is safe to do so.
Wait a few minutes before switching off the engine.

After switching off the ignition, carefully open the bonnet and check the coolant level.

For more information on Checking levels, refer to the corresponding section.
The servicing information is expressed in terms of distance (kilometres or miles) and time (months or days). The alert is given at whichever of these two terms is reached first...
Other information:
Selecting the source Press the "Media" menu. Press the "SOURCE" button. Select the source (USB, Bluetooth or AUX, depending on equipment). USB port 10 Insert the USB memory stick into the USB port or connect the USB device to the USB port using a suitable cable (not supplied)...
Lead-acid starter batteries Batteries contain harmful substances such as sulphuric acid and lead. They must be disposed of in accordance with regulations and must not, in any circumstances, be discarded with household waste. Take used remote control batteries and vehicle batteries to a special collection point...