Citroen C3: Indicators / Engine coolant temperature indicator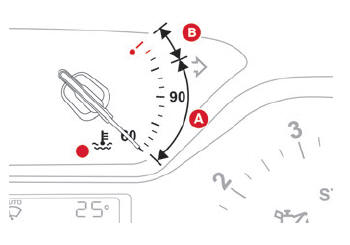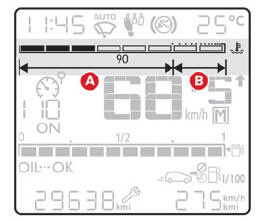 With the engine running:
In zone A, the temperature is correct.
In zone B, the temperature is too high; the associated warning lamp and the central STOP warning lamp come on in red on the instrument panel, accompanied by the display of a message and an audible signal.
You must stop the vehicle as soon as it is safe to do so.
Wait a few minutes before switching off the engine.

After switching off the ignition, carefully open the bonnet and check the coolant level.

For more information on Checking levels, refer to the corresponding section.
The servicing information is expressed in terms of distance (kilometres or miles) and time (months or days). The alert is given at whichever of these two terms is reached first...
Other information:
Do not remove the labels attached in different places on your vehicle. They include safety warnings as well as identification information for the vehicle. For all work on your vehicle, use a qualified workshop that has the technical information, skills and equipment required, all of which a CITROËN dealer is able to provide...
Voice commands Tune to channel <…> Help messages You can pick a radio station by saying "tune to" and the station name or frequency. For example "tune to channel Talksport" or "tune to 98.5 FM". To listen to a preset radio station, say "tune to preset number"...