Citroen C3: Indicators / Engine coolant temperature indicator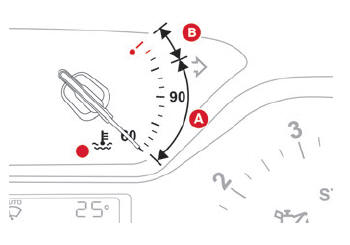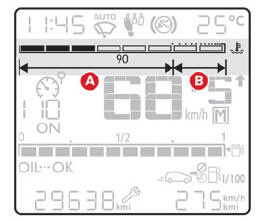 With the engine running:
In zone A, the temperature is correct.
In zone B, the temperature is too high; the associated warning lamp and the central STOP warning lamp come on in red on the instrument panel, accompanied by the display of a message and an audible signal.
You must stop the vehicle as soon as it is safe to do so.
Wait a few minutes before switching off the engine.

After switching off the ignition, carefully open the bonnet and check the coolant level.

For more information on Checking levels, refer to the corresponding section.
The servicing information is expressed in terms of distance (kilometres or miles) and time (months or days). The alert is given at whichever of these two terms is reached first...
Other information:
In compliance with European regulations, this table indicates the possibilities for installing child seats secured using the seat belt and universally approved (a) as well as the largest ISOFIX and i-Size child seats for the seat positions fitted with ISOFIX anchoring points in the vehicle...
Temporarily exceeding the programmed speed If needed (when overtaking, for example) it is possible to exceed the programmed speed by pressing the accelerator pedal. Cruise control is temporarily deactivated and the programmed speed displayed flashes...