Citroen C3: Practical information / Engine compartment
The engine represented is an example given for illustration purposes only.
The locations of the following elements may vary:
Air filter.
Engine oil dipstick.
Engine oil filler cap.
Petrol engine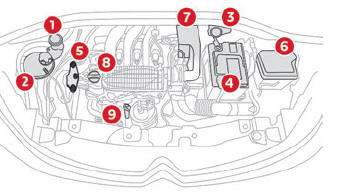 Diesel engine
Screenwash fluid reservoir
Engine coolant reservoir
Brake fluid reservoir
Battery
Remote earth point (-)
Fusebox
Air filter
Engine oil filler cap
Engine oil dipstick
Priming pump*

The Diesel fuel system operates under very high pressure.
All work on this circuit must be carried out only by a CITROËN dealer or a qualified workshop.
* Depending on engine.
Stop & Start Before doing anything under the bonnet, you must switch off the ignition to avoid any risk of injury resulting from an automatic change to START mode...
Check all of the following levels regularly in accordance with the manufacturer's service schedule. Top them up if required, unless otherwise indicated...
Other information:
GPS navigation - Applications - Multimedia audio system - Bluetooth® telephone The functions and settings described vary according to the vehicle version and configuration. For safety reasons and because they require sustained attention by the driver, the following operations must be carried out with the vehicle stationary and the ignition on: Pairing the smartphone with the system ..
Radio: Select the previous/next preset radio station. Select the previous/next item in a menu or a list. Media: Select the previous/next track. Select the previous/next item in a menu or a list. Radio: Short press: display the list of radio stations. Long press: update the list. Media: Short press: display the list of folders. Long press: display the available sorting options. Change audio..