Citroen C3: Child seats / Child seat at the front

Adjust the front passenger seat to the maximum rear longitudinal position, with the backrest straightened.
"Rearward facing"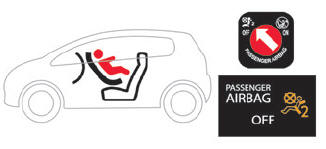 The front passenger airbag must be deactivated before installing a rearward facing child seat. Otherwise, the child risks being seriously injured or killed if the airbag deploys.
"Forward facing"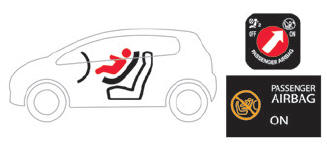 You must leave the front passenger airbag active.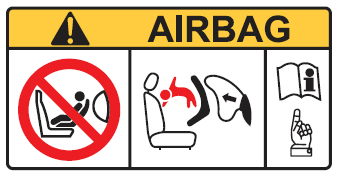 Warning label - Front passenger airbag

You must comply with the following instruction, reminded by the warning label on both sides of the passenger sun visor:
NEVER use a rearward facing child restraint on a seat protected by an ACTIVE AIRBAG in front of it, DEATH or SERIOUS INJURY to the CHILD can occur.
"Forward facing" or "Rearward facing" Move the vehicle's front seat forward and straighten the backrest so that the legs of the child in the "forward facing" child seat or the "rearward facing" child seat itself do not touch the vehicle's front seat...
Passenger airbag OFF For your child's safety, the front passenger airbag MUST be deactivated when a "rearward facing" child seat is installed on the front passenger seat...
Other information:
The engine represented is an example given for illustration purposes only. The locations of the following elements may vary: Air filter. Engine oil dipstick. Engine oil filler cap. Petrol engine Diesel engine Screenwash fluid reservoir Engine coolant reservoir Brake fluid reservoir Battery Remote earth point (-) Fusebox Air filter Engine oil filler cap Engine oil dipstick Primi..
If there is no telephone connected by Bluetooth, a voice message announces: "Please first connect a telephone", and the voice session will be closed. Voice commands Send text to <...> Listen to most recent message** Help messages To hear your messages, you can say "listen to most recent message". When you want to send a text, there's a set of quick messages ready for you to use. Ju..